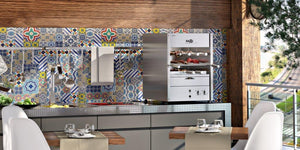 Gaucho Grills: getting to know the Residential Gas Barbecue RG300
     Following the months of pandemic, there has been an increase in the use and improvement of outdoor spaces in homes, a trend that seems to continue on for 2021. See Family Handyman Article Here. In a survey by Fixr.com conducted on construction and remodeling experts, among the outdoor living trends for this year, See Fixr.com Article Here, outdoor kitchens are considered to be the most desired addition to outdoor living spaces. With this in mind, and as the summer and warm weather approach, it is inevitable to include barbecue plans in the minds of Americans.
     The Brazilian barbecue or churrasco has gained the hearts of many meat lovers across the world, including the US. At the heart of what we do is the passion for spreading our gaucho traditions worldwide and helping not only restaurants and steakhouses but also households to open their kitchens to an authentic experience.
     We have realized that some of our clients seem to feel confused about how to use our residential line grills. The reasons may vary: the design, technology, the options of use, how to maintain it, and so on. One thing is certain: you no longer have to worry about how to make a Brazilian barbecue pit from scratch and learn the techniques and processes the old-school way. The Scheer barbecue grills brought to America by Zafill are just the perfect union of practicality with high-end technology, making the learning experience more enjoyable and easier than ever. Besides, the sophisticated design of these machines make them an incredible addition to your kitchen project.
  Therefore, we thought it would be a good idea to highlight some of our products here in our blog to help you understand their functionalities, expand the use possibilities in your kitchen, and to break the ice for those who still do not own a gaucho grill and are considering leveling up their kitchen for this summer or whenever. After all, when it comes to Brazilian-style barbecue, trust us, you don't want to miss a thing.
    Residential Gas Barbecue RG300
   The first product highlight is the Residential Gas Barbecue RG300. It is coated with high-quality stainless steel panels and equipped with upper infrared burners which are responsible for roasting the food.
  As you can notice in the name, this grill works with gas, which is a great and flexible option for those who are considering adding it to their indoor or, following this year's trends, to a fusion of outdoor/indoor kitchen space, as we mentioned in the beginning of the article. Due to the gas system, you also don't have to worry about a gust of wind or maintaining the temperature, given it has a constant heat source from the infrared burners.
      The Gas RG300 comes with at least five rotisserie skewers. Learning how to use them may seem complicated, but the Scheer grills facilitate the process. Therefore, it shouldn't be a reason not to have one at your home. Within the Gas RG300 for example, you will find spinning grooves where you can place the tip of the skewers, as well as support hooks to fit its sheaves on. Such technology allows the skewers to spin and facilitate its handling. It is also much easier to control the meat roasting. Nonetheless, with this grill you also have the option of purchasing a manual flat grill separately to expand the use possibilities.
     Another great feature of this grill is that it comes with a bottom water tray that not only prevents smoke formation from the grease that drips from the skewers or the flat grill, but also makes it easy to clean afterwards. According to the user guide, the water tray has to be filled with 10 to 15 liters (around 3 gallons) of water before using the grill.
  In this video you will find the visual representation of this model: Residential BBQ Grill RG300 Video.
      How to Clean a Gaucho Grill?
  One of the main rules of maintenance of your rotisserie is to always clean it right after use, while it is cooling down. Besides increasing its lifespan, by maintaining the grill clean and sanitized you avoid unnecessary risks. Below are the steps to clean your Scheer grill:
Step 1: make sure to put out the coal, or, in the case of the Residential Gas RG 300, to turn off the burners to avoid any possible injuries.
Step 2: rub the stainless steel gently using a neutral degreasing cleaner and a soft sponge or cloth.
Step 3: wait a few minutes for the cleaner solution to act on the dirty surface and then use a humid piece of cloth to remove the excess of chemicals. Don't throw water at the grill.
Step 4: Depending on the amount of dirt you might need to repeat step 3 more than once. To finish, rub a dry cloth on the grill's surface.
  Here is a video representation of how to clean your Scheer rotisserie Grill to maximize its life and durability: How to clean your grill Video.
  On Zafill Distribution website, you will find an English version manual for the Gas RG300 ready to download. There will be all the information about its installation, functionality, maintenance, types of gas, etc. Download Here RG300 User Manual.
    We hope this article has been helpful in making you more familiar with our gaucho grills. We will be highlighting more products soon. Please leave a comment on this article or contact us if you have any questions about the content. We would love to hear recommendations from you as well so we can keep providing meaningful and relevant information to our community.

    Open your kitchen to unique memories!
---